Libraries, Museums and Theater is an exhibition of selected works by legendary German artist Candida Höfer. This is the artist's eleventh solo exhibition with Ben Brown Fine Arts and the eighth solo exhibition at the London Gallery. The retrospective presents a selection of quintessential and spectacular photographs from libraries, museums and a theater, variously located in Austria, England, France, Germany, Ireland, Italy and Russia. These works illustrate his unique ability to capture public spaces that have been deprived of their public status due to the absence of human presence. Therefore, there is a feeling of looking into an illicit moment or space, the architectural splendor of which can only be fully recognized in solitude.
Among the photographs in the exhibition is Villa Borghese Roma I 2012. The photograph presents an extraordinary interior of historical significance, as the sculptures located on the blue plinths first belonged to the Galleria Borghese, sold to French collectors, then loaned by the Louvre to the Galleria. Therefore, Höfer captured the statues in their original surroundings, a true testament that his photographs are not documentaries of everyday life, but rather capture the essence and history of a space, in its isolation.
The exhibition also includes two works from Höfer's Louvre series, executed in 2005. The Louvre is now a tourist attraction that sees millions of people pass through its doors each year, however, in the works presented in this exhibition, both rooms are empty. , a rare site, because Höfer was granted permission to photograph the interior when it was closed to the public. The effect of large-format photographs is a rare combination of intimacy and scale, in which famous Western works of art enter into a reluctant but articulate conversation with the architectural setting, without giving up the sense of space and of civilized order. Höfer exhibited these works at the Louvre in 2007, in an exhibition entitled Candida Höfer, Le Louvre.
Höfer's "interior portraits" capture the greatness of humanity, as empty spaces are associated with cultural and historical memories that are both in the present and in the past. Marsh's Library Dublin I 2004, for example, is a photograph of what is considered to be Ireland's first public library, which opened in 1707. The amazing details that are brought to the fore in his works are a direct result of Höfer's working method, because it produces long exposure photographs and working only with the existing light source. This is attested in this work, as natural light enters the bookcase from above, which showcases the early Enlightenment architecture and the decorative golden gables that embellish the dark oak bookcases, all in their original condition. original. The historical significance of the library is also present, as the shelves shown have bullet holes from the Easter Rebellion that occurred in Ireland in the 20th century.
Through Höfer's lens, the works selected in the exhibition illustrate his exploration of the psychological effect of architecture. As a result, Höfer exquisitely manages to capture the architectural grandeur and history of the institutions.
Candida H̦fer: Libraries, Museums and a Theater November 22, 2021 РJanuary 28, 2022 at Ben Brown Fine Art
About the artist
Candida Höfer (born 1944) is a German artist based in Cologne, Germany. Höfer is a member of the Düsseldorf school (Kunstakademie Düsseldorf) and former pupil of Bernd and Hilla Becher. Other contemporary artists who were students of the Düsseldorf school include Andreas Gursky, Thomas Struth, Axel Hütte and Thomas Ruff. Höfer completed his training at the Schmölz-Huth Studio and taught at the Hochschule fur Gestaltung. Höfer's career spans more than four decades. She represented Germany at the 50th Venice Biennale and received the 2018 Outstanding Contribution to Photography Award, as part of the Sony World Photography Awards. In addition, Höfer participated in Documenta II and his photographs are part of the main collections of museums around the world, notably at the Center Georges Pompidou, Paris; J. Paul Getty Museum, Los Angeles; Museo Nacional Centro de Arte Reina Sofía, Madrid; Folkwang Museum, Essen; Museum of Modern Art (MoMA), New York; Kunsthalle Hamburg, Hamburg; San Francisco Museum of Modern Art, San Francisco; Solomon R. Guggenheim Museum, New York; The State Hermitage Museum, St. Petersburg; and Tate Modern, London. Höfer's work has been exhibited internationally, in institutions such as the Kunsthalle Basel, Basel; Kunsthalle Berne, Berne; Louvre Museum, Paris; Irish Museum of
Modern Art, Dublin; and the State Hermitage Museum, St. Petersburg.
Categories
Key words
Author
Marc Westall
Mark Westall is the founder and editor-in-chief of FAD magazine Founder and co-editor of Art of Conversation and founder of the @worldoffad platform
Materials such as graphite, acrylic and linen work independently and together to compile the almost abstract paintings of Ena Swansea. Highlights of the […]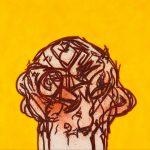 Ben Brown Fine Arts, London, announced the exhibition Frank Auerbach / Tony Bevan: What Is A Head? featuring portraits of two of Britain's greatest figurative painters, curated by Michael Peppiatt.
Ben Brown Fine Arts will present at the London gallery an extraordinary group of paintings by famous British artists Gilbert & George, exhibited together for the first time from a large private collection. After meeting at Saint Martin's School of Art in London in 1967, Gilbert and George have since created art together, fully integrating all aspects of their lives into their art, making themselves "living sculptures".
A robot arm, screams, red canvases, a sculpture and a boxing ring.